OUR NEXT AUCTION WILL BE A MILITARY COLLECTIBLES AUCTION TO BE HELD ONSITE IN OUR AUCTION GALLERY!

THIS AUCTION WILL BE HELD ON SATURDAY MARCH 28, 2015 BEGINNING @ 11:00 AM.


PREVIEW AND EARLY REGISTRATION:
FRIDAY MARCH 27, 2015 1PM-5PM & 9AM TIL AUCTION START ON SATURDAY MARCH 28, 2015.

MOST ITEMS THAT WILL BE OFFERED ARE FROM A PRIVATE SOUTHERN MILITARY MUSEUM WITH MANY DIRECT VETERAN/FAMILY ACQUIRED ITEMS AND WILL INCLUDE SOME SELECT ITEMS FROM AREA VET ESTATES AND/OR PRIVATE COLLECTIONS!

THIS AUCTION WILL BE FEATURING:

*FIREARMS*--Inland M-A1 Paratrooper & M1 Carbines-M1897 Winchester Trench Shotgun With US Stamping + Other US Marked Shotguns-1944 Dated M1 Garand Rifle (Matching #'ers)-Several WWII Japanese Arisaka Rifles To Include A Rare Japanese Navy Issue Rifle-WWII K98 Rifle-Czech MG37 (T) Machine Gun W/Tripod (Deactivated)-Nazi Proof Marked 9mm Pistols To Include a Sig Sauer-CZ-Late War Walther PPK & 1940 Dated Luger-WW1 Artillery Luger W/2 Digit Serial Number With Snail Drum-Type 14 & type 94 Nambu Pistols-Rare "Liberator" Pistol…+ Much More!

*WWII US Military Swords-Fighting Knives-Uniforms-Named Leather A-2 Flight Jacket Groupings-101st Airborne Jump Jacket-Medal Groupings..To Include a Rare Battle Of Attu Purple Heart/DSC Named KIA Grouping!--WWII German Flags-Daggers-SS, SA, Kriegsmarine, Hitler Youth...ETC-Uniforms To Include WWII Nazi Luftwaffe Flak Lt. Colonel Tunic-Nazi Justice Official Tunic W/Pants-Nazi Lt. Colonel Admin. Officer's Tunic-Medals-Helmets To Include WWII Vet Bring Back Normandy Camo Helmet + Much More!!-Visor Hats To Include Luftwaffe Officer & Officer's Candidate By EREL-Bayonets-Swords-Belt Buckles-Rare 50th Anniversary Edition Mein Kampf From Hans Frank Estate With Original Hitler Signature + Other Scarce Nazi/German Items- WWII Japanese Flags-Pilot Tunic-Helmets-Samurai Swords-Etc—WW1 US Painted Helmets And Named Groupings..WW1German Helmets/Pickelhaubes-WW1 & WWII Ordnance-Vietnam Era Tour Jackets…+ MUCH…MUCH MORE!!*

(WE ARE STILL ADDING ITEMS TO CATALOG!!)

CAN'T MAKE IT TO THE AUCTION...?
CLICK HERE TO VIEW OUR ONLINE AUCTION CATALOG AND REGISTER TO PRE-BID OR BID ONLINE LIVE!!!
For other detailed photos of items in this auction...click the "view photos" links below........
ABSENTEE BIDS ARE WELCOME UNTIL 1 HOUR PRIOR TO SALE....ALL PHONE BID REQUESTS MUST BE SUBMITTED BY 6:00PM THE DAY BEFORE THE AUCTION ONLY WHEN IT IS A LIVE EVENT!
-PLEASE CALL 828-651-9699 OR 828-768-9776 WITH QUESTIONS-
Auctioneer: Daryl Bagwell NCAL #7860 NCAFL #7885 SCAL #4180 FFL# 156-05724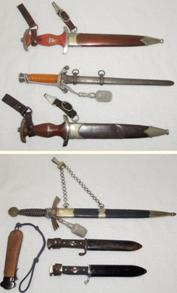 AUCTIONEER'S NOTE:
BAGWELL & ASSOC. AUCTION CO. IS PLEASED TO ANNOUNCE THAT WE NOW HAVE OUR FEDERAL FIREARMS LICENSE AND ARE NOW ACCEPTING CONSIGNMENTS FOR UPCOMING FIREARMS AUCTIONS.
Please Note: If you are an out of state winning bidder on any regulated firearm.The credit card you have on file will charged within the next 24 hours for the winning bid. Shipping will be charged seperately and an email will be sent with tracking info. If you have an FFL and/or C&R license, please fax a copy to 828-651-0036 or email to bagwellauctionco@aol.com. If you do not have an FFL or C&R license, please send a copy of the nearest FFL dealer in your area that you would like you item(s) shipped to.Any and all firearms that are sent to another registered FFL dealer that do NOT pass a Federal background check may NOT be returned for credit...If Any of the items you purchased do not require an FFL and/or C&R license, then no other action is required.

Terms: Cash, check accepted with proper ID. Master Card/ Visa. Buyer's premium of 13% will be added to each sale for all in house bidders and 18% for ALL internet bidders. NC sales tax will apply on all sales unless a valid tax exempt # is provided. All purchases must be paid for on the day of sale. ALL SALES ARE FINAL. No returns or refunds. ALL ITEMS SOLD AS IS WHERE IS with no guarantees. Announcements made at the beginning of the sale override any previous announcements. Phone & Absentee bids accepted until 1 hour prior to sale. Concessions available.
Directions: From Asheville take I-26 toward Hendersonville. Take the Fletcher exit to 25 North. Pass Smiley's Flea Market, third stop light turn left on Fanning Bridge Rd. Bagwell Auctions is on the immediate left. Or take 25 South (Hendersonville Rd.) through Skyland and Arden to Fletcher, turn right on Fanning Bridge Rd. (Just past Fletcher Chevrolet). From Asheville Airport turn on Fanning Bridge Rd. beside the Agricultural Center and follow until intersection of Fanning Bridge Rd. and Hwy 25. Bagwell Auctions is on the right.
THIS AUCTION HAS BEEN VIEWED loa TIMES